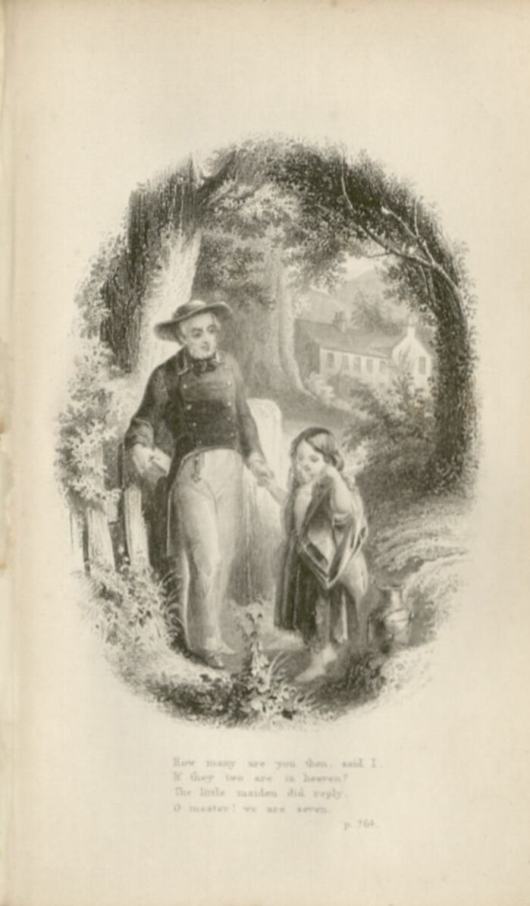 This illustrated Victorian edition of The Poetical Works , created by a Scottish firm after many of Wordsworth's poems were out of copyright, is one of many printed after the poet's death. It is is patterned after the organizational scheme Wordsworth established in 1815 (a practice still used in some reprints of his collected works to this day).
This deluxe edition was published as part of a larger "Poetical Series," each volume containing an autobiography and eight steel engravings of the chosen author. Wordsworth was chosen alongside Shakespeare, Milton, and Alexander Pope. An object like this represents the Victorian taste for beautiful books and its publisher's aim to keep Wordsworth relevant for a new generation of readers.
In the image above, an illustration to Wordsworth's beloved "We Are Seven," the house in the background is recognizable as Rydal Mount, the late poet's own home. Thus, the artist seems to imagine the poet as the adult speaker in the poem, though Wordsworth himself makes sure that the child speaker gets the last word.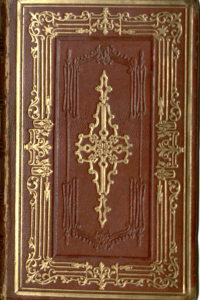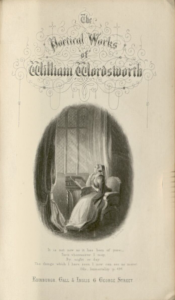 Contributed by Hailey Kate Chatlin